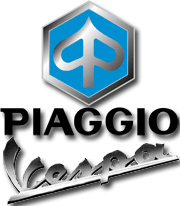 More used parts now available from a Piaggio-Vespa ET4 125cc scooter…….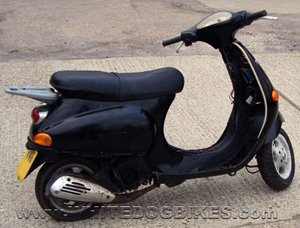 A little bit about the Piaggio-Vespa ET 4………
Bike model: Piaggio/Vespa ET4

Years (in the UK): 1996 to 2005

Frame number: Started – ZAPM04000—–
Chassis/Frame
Frame: Pressed steel monocoque chassis
Engine
Engine type: 4 stroke, single cylinder, SOHC (Single Over Head Camshaft) LEADER type engine (Low Emissions Advanced Engine Range)
Engine power: 14.6 bhp

Engine size: 124.2 cc
Engine Cooling: Air cooled (air is forced round by a fan on the side of the engine)
Oil (non Leader engine): 4-stroke 15w50 synthetic oil
Oil (Leader engine): 4-stroke 5w40 synthetic oil
Oil filter: OIF043 (Hiflo equivalent: HF181, Champion equivalent: X330)
Fuel: Unleaded petrol
Fuel capacity: 9 litres
Miles per gallon (MPG) : Approx. 42 mpg
Gearbox and clutch
Transmission: CVT (continuously variable transmission)
Gearbox Oil: Scooter gear oil
Clutch: Automatic centrifugal type
Ignition, Electrics and Starter
Ignition: Electronic CDI and variable timing
Starter: Electric and kick start
Battery: YB9-B / CB9-B / DB9-B
Weight 'n Measures
Dry weight: 104 kg
Length: 1,760 mm (69.3 inches)
Width: 670 mm (26.4 inches)
Wheel base: 1,280 mm (50.4 inches)
Seat height: 805 mm (31.7 inches)
Wheels and Tyres
Front wheel: Die-cast aluminum alloy
Rear wheel: Die-cast aluminum alloy
Front tyre: 100/80 – 10 (tubeless tyre)
Rear tyre: 120/70 – 10 (tubeless tyre)
Suspension and Brakes
Front suspension: Swinging arm (aeronautical type) with helicoidal spring and hydraulic double effect single damper
Rear suspension: Single rear shock absorber (mono shock)
Front brake: Hydraulic disc brake with dual piston hydraulic caliper
Rear brake: Drum brake with mechanical linkage (operated via a cable)
Useless stuff…….

The front suspension on the Vespa ET4 has been used on all Vespa models since 1946.
There were numerous 'optional factory extras' available for the Piaggio/Vespa ET 4.
The Vespa ET4 125cc was manufactured for the European market, in North America the Vespa ET-4 was a 150cc scooter.
The Piaggio ET4 has been a popular commuter bike with a loyal fanbase and it's own owners clubs.
The ET4 uses the Vespa developed LEADER (Low Emissions ADvanced Engine Range) four stroke engine. Although there good engines, they do need to be run on a GOOD QUALITY fully synthetic 5w-40 oil!
Buying advice: No real weak points apart from the coded ignitions (if the ET4 has a coded ignition, make sure it comes with the red, programming key!).
Also check front suspension for dirt, pitting and leaks and the chrome parts don't fair all that well in the British climate!
MORE PARTS ADDED THIS WEEK: '96 to 05 Piaggio / Vespa ET4 125cc Parts and Spares