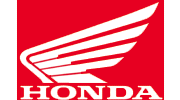 1964 to 1968 Honda CT 200 (aka Trail 90) Specs and Information
The CT200 was a 90cc trail bike released by Honda in 1964 (NOT to be confused with Honda's 200cc trails bikes!)
Although these little 90cc off road beasties are fairly common in the USA, they are rare in the UK.
We did buy, ride around and sell one of these in late 2010 / early 2011………..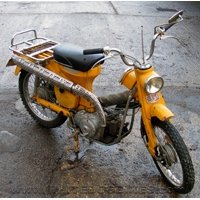 **Please Note** As with most older bikes, it can be very difficult to get ACCURATE information, do PLEASE don't take the info on this page as gospel!!!
The Honda CT200 was originally sold to the hunter and fisherman market (there was an optional gun holder as a genuine Honda accessory for this bike!) in the US between 1964 and 1968.
Extra features included large rear carrying rack, off road tyres, 2 sets of sprockets on the rear wheel and a non sparking exhaust can!
'64 to '68 Honda CT200 (90cc) Specs:
Manufactured between: 1964 – 1968
Release date: 05/01/1964
Frame number started: CT200—-
Engine number started: CT200E—-
Available colours: Red or Yellow
Top speed (NOT verified!): 50mph (85kph)
Engine, gearbox and drive stuff
Engine: 4-Stroke, air cooled, single Cylinder
Power (BHP): 7.0 at 8,500
Bore and Stroke: 50x 45
Compression Ratio: 8.2:1
CC: 87cc (single cylinder)
Oil: Basic 10w40 4 stroke engine oil
Gearbox: 4 Speed (constant mesh) with automatic clutch
Clutch: Automatic
Starter: Kick start only
Tyres, brakes, sprockets 'n stuff
Front tyre size: 2.50-17 (250-17, tubed type tyre)
Rear tyre size: 2.75-17 (275017 tubed type tyre)
Rear drive sprockets: Dual overlay sprockets (the rear wheel holds 2 sprockets for different kinds of terrain, the chain can be switched between the 2 sprockets)
Front brake: Drum type
Rear brake: Drum type
Electrics
Voltage: 6 volt
Battery: 6N5.5-1D
Exhaust
Type: Mild steel/chrome exhaust
Special features: Forestry-approved spark arrester / exhaust
Weights, measures 'n stuff
Weight: 80kg (180 lbs)
Fuel tank: 5 litres
Whats a Honda CT200 worth in the UK?)
Difficult question to answer…………….The Honda CT 200 we had was a runner and only looked to have a few parts missing and was sold in January 2011 for £450.
There was a Honda CT200 (aka Trail 90) sold on Ebay (complete and running) in March 2011 for £901.
The downside to these bikes in the UK is we've never seen one with the import documents (or ANY docs!), which does make registering them a chore……
The engines in the Honda CT200's can be a bit rattly, but, the engines are pretty much bullet proof and usually go on forever!
1964 to 1968 Honda CT 200 (aka Trail 90) pics: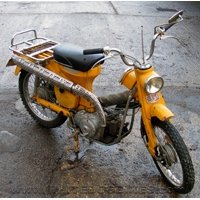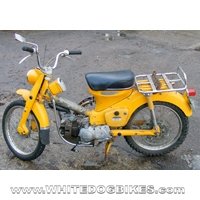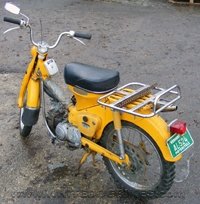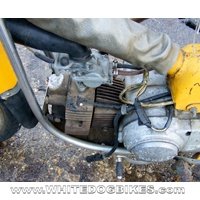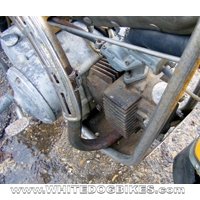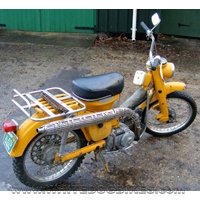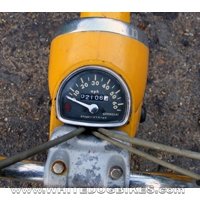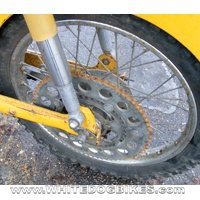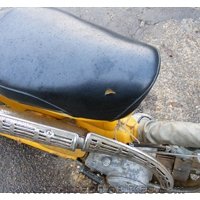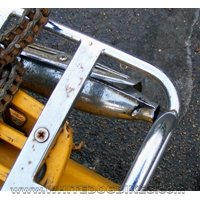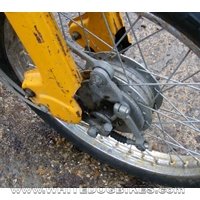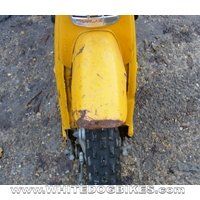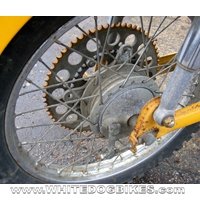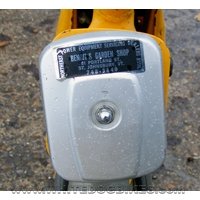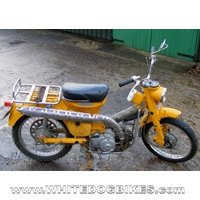 Many of the Honda CT200 90cc bikes around seem to have been imported from the USA and Australia (where the MAY have been used as bikes for the postal service in these countries?)