What does the JASO MA and JASO MA2 Motorcycle Oil Standard Mean?
In 1998 the Japanese Automotive Standards Organization (or JASO for short) developed a grading system for motorcycle oils.
The grading system measured (among other things) an oils ability to resist clutch friction (or slippage), protection offered against engine wear and pitting in the gear box.

Up to 1998 car oils had been used as the base for many motorcycle oils. As car technology evolved over the years the oils that cars needed changed and additives were added that weren't good for motorcycle engines (especially motorbike clutches and gearboxes, mainly due to the fact that, unlike most motorcycles, cars use a separate oil for the gearbox).
Car oils had been blended using more and more friction modifiers, which, although good for cars, wasn't too good for motorcycles as these modifiers can cause clutches to slip at higher revs and gearbox pitting.
JASO MA – This was the standard for single unit engines where the wet clutch, gearbox and engine used the same oil. JASO-MA oils don't contain friction modifiers.

JASO MB – This lower standard was for bikes that use separate oils for the engine, clutch and gearbox (e.g Harley Davidson's and BMW's).
Then in 2006 JASO introduced…..
JASO-MA2 – This specification was introduced in 2006 for modern motorcycle engines. As well as being a higher standard of oil the JASO-MA2 approval means the oil is suitable for use in bikes with catalytic converts in the exhaust system.
JASO also introduced a rating system for 2 stroke oils. Modern 2 stroke bike and scooter engines have much finer tolerances and low ash burn (which means less smoke) and need a higher specification 2T oil.
JASO 2 stroke oil classifications (JASO-FA is the lowest spec, JASO-FD is the highest):
JASO FA – This is the lowest 2 stroke oil spec that tests lubricating capability, detergents, initial torque and exhaust smoke.

JASO FB – This spec tests the same things as JASO FA but is a slightly higher standard.

JASO FC – This spec has the same level of tests as JASO-FB for lubricating capability and initial torque. But it has much higher standards for detergents and exhaust smoke.

JASO FD – This spec is almost the same as the JASO-FC spec but with much higher detergent capabilities.
The JASO specifications are the Japanese equivalent to the American API standard and were introduced partly because the API standards used for oils weren't up to the job for modern engines.
Where to find the JASO information on an oil bottle…..
Normally the JASO and other oil specification information will be printed on the back label.
Silkolene Motorcycle Oil JASO information (4 stroke):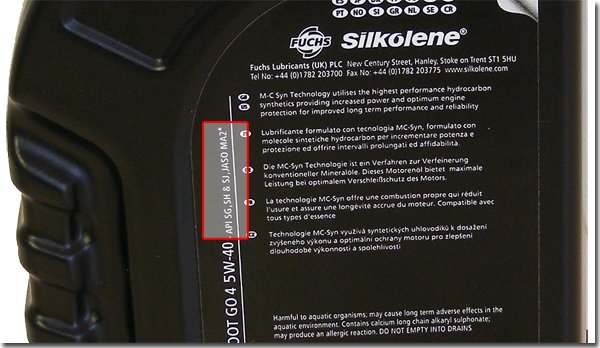 Rock Oil JASO information (4 stroke):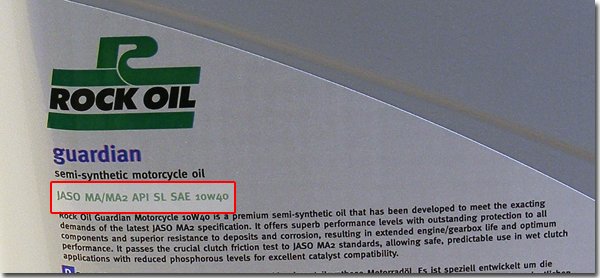 Silkolene Motorcycle Oil JASO information (2 stroke):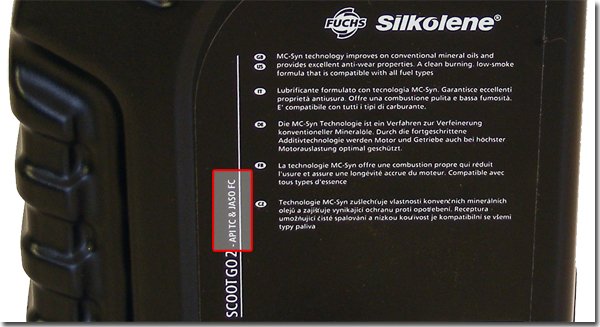 Rock Oil 2 Stroke Oil JASO information: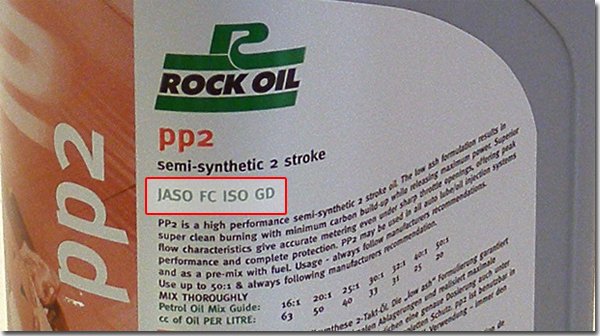 A few point's to consider when selecting a JASO approved oil…..
Engine oil is an amazingly complex subject and (unsurprisingly!) the approvals that are used to rate the oil are complex (and vague!). There are a few point's to consider before you part with your hard earned cash when buying oil.
1) You get what you pay for!

When buying oil (with only a few exceptions!), you get what you pay for. So if you are offered 4 litres of 'fully synthetic' 10w40 'JASO MA2' approved motorcycle oil for £25, you can bet all your ££ that it WON'T be fully synthetic and would be very unlikely to pass the JASO MA2 test!

2) Cheap/workshop/etc 10w40 oils aren't suitable for all bikes!

If you've got the latest Ducati/Honda/Yamaha/KTM/etc Muchofasti bike, there is a chance you may need to bite the bullet and buy a more expensive oil for it (when you see up close the very fine tolerances modern engines work to you begin to understand why, sometimes, the cheapest oils just aren't worth the risk!)