The Yamaha SR250 SE was a commuter style 4 stroke motorcycle manufactured between 1980 and 1985 (ish!). With styling taken from the Yam SR500
and SR400
, the SR 250 was aimed at the popular quarter litre motorbike market (in the UK we used to be able to ride a motorcycle up to 250cc on a car license without the need to take any further motorbike tests).
The SR250 was available in other countries and was called the SR250 Exciter
in the USA.
The SR250SE proved to be (and still is) a popular and reliable commuter bike.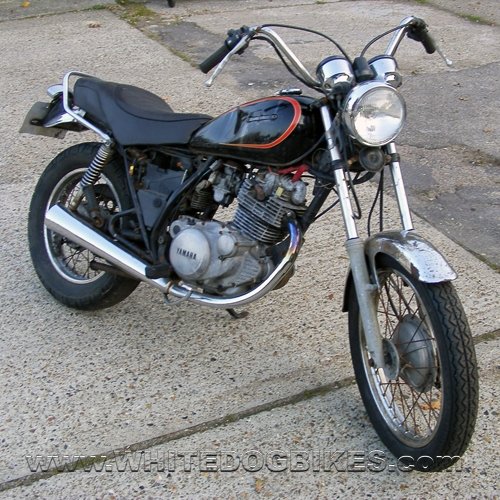 Need parts for your SR250? Find SR250 spares…
A little bit about the Yamaha SR 250 SE…..
Basic model info…

Manufacturer:
Yamaha
Model:
SR250 SE
Also known as (aka):
SR250 Exciter
CC:
239cc
Engine type:
Single cylinder (4 stroke)
Years in production:
1980 to 1985
Style of bike:
Commuter
Insurance:
Group 4 (of 17) – SR250 insurance up for renewal? Save money at Confused.com
There now follows a necessary but totally unrelated ad…..Sorry!
Engine, gearbox and drive stuff…
Information: SR250 Service Manual
Yamaha engine code: 3Y8
Displacement: 239cc ccm
Engine type: Air cooled, four stroke, single cylinder, SOHC (single overhead cam)
Bore x Stroke: 73.5mm x 56.5mm
Inlet valve clearance (when cold): 0.05mm to 0.10mm
Exhaust valve clearance (when cold): 0.12mm to 0.17mm
Gasket: Engine gaskets

Recommended engine oil (4T): 10w40 Semi Synthetic motorcycle oil
Engine oil capacity: 1.3 litres (1.6 litres if the oil filter is changed as well)
Oil filter: Filtrex OIF018 / Hiflo HF145
/ K&N KN-145

Compression Ratio: 8.9:1
Firing order: If your looking for the firing order you might want to read this book
(hint, it's a SINGLE CYLINDER engine)! 🙂
Power: 20 bhp at 7700 rpm
Torque: 13.7 ft-lb at 7000 rpm
Standing ¼ Mile time: 16.3 sec
Cooling system: Air cooled
Gearbox: 5-speed
Clutch: wet (oil immersed), multi plate clutch
Note: You'll need a clutch holding tool for removing it, a clutch lever if you've dropped it and possibly a clutch cable if it's suddenly stopped working!
Final drive: Chain (chain and sprocket kits
)
Drive chain length: 102 links
Drive chain pitch: 520
Front sprocket teeth: 16
Rear sprocket teeth: 45
Note: Some models had a slightly smaller, 15 tooth front sprocket instead of the standard 16 tooth front sprocket (if your replacing your old sprocket, count the teeth to see which one you have!)
Top speed: 89 mph….Ish!
Please note – The 89mph top speed was Yamaha's estimated top speed (used on their marketing bumph!) back in the 1980's. As with most marketing stuff, this should be taken with a pinch of salt (most manufacturers inflate the top speed figure in their marketing leaflets as it helps increase sales!).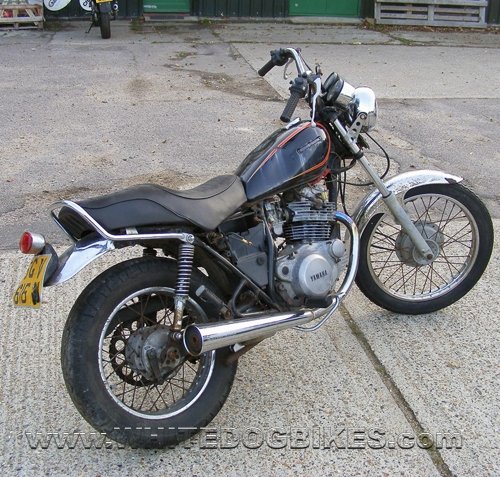 Side view of a (very scruffy!) 1981 SR250 SE
Carb and fuel stuff…
Carb type: 34mm Mikuni carburetor (carb parts
)
Carb type: BS34-III
Pilot screw opening: 2 turns
Float height level: 3mm (+ or – 1mm)
Engine idle speed: 1200 rpm
Fuel tank capacity: 10.8 Litres
Average MPG: 70 mpg (miles per gallon)
Fuel tap: On the left side of the tank, behind the engine – Petrol tap repair kits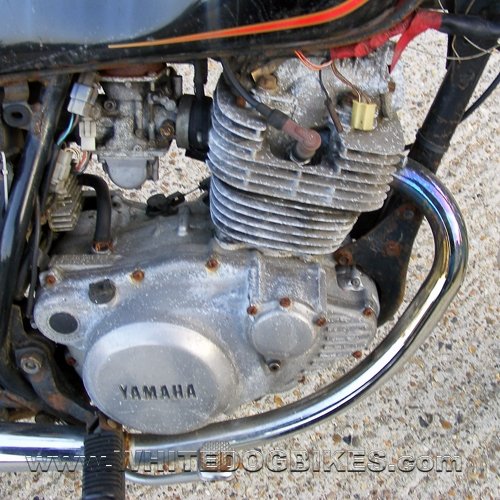 1981 Yamaha SR250 SE carburetor and engine
Electric stuff…
Ignition type: Electronic CDI
CDI manufacturer: Hitachi
CDI part no: 3Y6 and TID11-02
Voltage: 12 volts
Regulated voltage: 14.8 volts (regulator/rectifier
)
Ignition switch: Center mounted handlebar key operated ignition Switch

Plug coil primary resistance: 2.48 to 3.00 ohms
Plug coil secondary resistance: 6320 to 9480 ohms
Pick up coil resistance: 630 to 770 ohms
Pick up / contact breaker gap: 0.6mm
Max alternator output: 8 amps at 4000 rpm
Starter type: Electric starter motor
Battery: Yuasa YB12A-A

/ AC/Delco AB12AA

Spark plug: NGK BP7ES

– Champion RN7YC

Spark plug gap: NGK 0.7mm to 0.8mm – Champion 0.8mm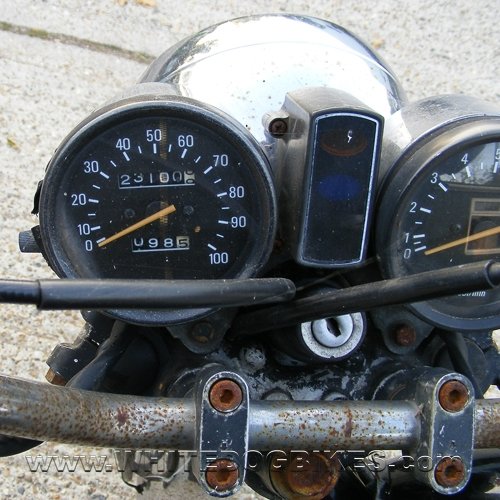 1981 Yamaha SR250 SE speedometer and warning lights
Exhaust system…
Type: 1 into 1 system
Gasket: 45mm (outside diameter) x 38mm (inside diameter) x 5mm (depth) exhaust gasket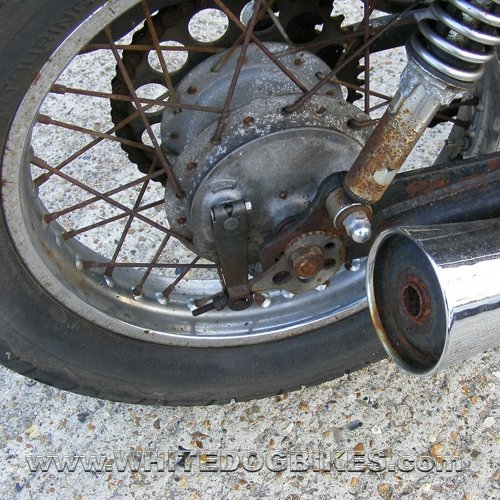 1981 Yamaha SR250 SE back drum brake
Shocks, brakes and wheels…
Front tyre size: 3.00-18 (300-18)

Front inner tube: 275/300-18
Note: There seems to be a bit of confusion over if the SR250 had a 19 inch or 18 inch front wheel. The few we've had in all had 18 inch front wheels, but most tyre reference books say they have 19 inch front wheels (so best to check your old tyre before buying a replacement!)
Rear tyre size: 120/90-16

Rear inner tube: 500/510-16

Front tyre pressure (if your on your own): 1.8 bar / 26 psi
Front tyre pressure (if your carrying a pillion): 2.0 bar / 29 psi
Rear tyre pressure (if your on your own): 2.0 bar / 29 psi
Rear tyre pressure (if your carrying a pillion): 2.3 bar / 33 psi
Front brake: Drum (expanding) brake (front brake lever
)
Front brake shoe: EBC Y511 / Vesrah VB-220

Rear brake: Drum (expanding) brake
Rear brake shoe: EBC Y506 / Vesrah VB-223

Front wheel type: Spoked wheel (front wheel bearings
)
Rear wheel type: Spoked wheel (rear wheel bearings
)
Head bearings: steering head bearing kit

Front Suspension: 32mm Telescopic forks (fork seals
)
Front fork oil type: 10w (medium weight)

Front fork oil amount: 168ml (per fork)
Rear Suspension: Twin shock (with preload adjustment)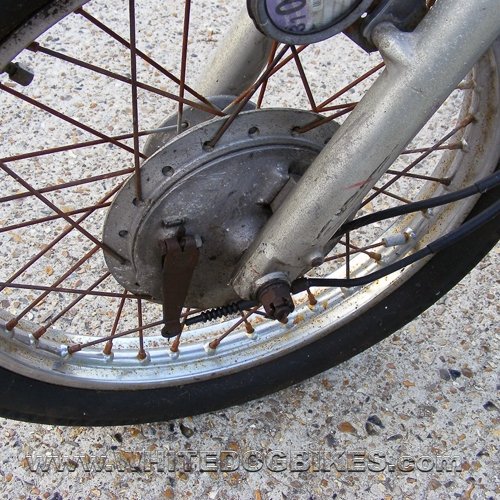 1981 Yamaha SR250 SE front brum brake
Weights 'n other stuff…
Wet weight (inc oil, petrol, etc): 122 kg
Tachometer: Cable operated

Speedometer: Cable operated
Useful tightening torques…
Cylinder head (1st stage): 37.5nm
Cylinder head (2nd stage): If M8 bolts, 20nm – If M6 bolts, 10nm
Magneto / flywheel: 80nm
Camshaft sprocket: 55nm
Crankshaft sprocket: 70nm
Clutch hub: 70nm
Spark plug: 20nm
Front wheel spindle: 106nm
Front wheel spindle clamp (the ones in the fork leg): 22nm
Rear wheel spindle: 106nm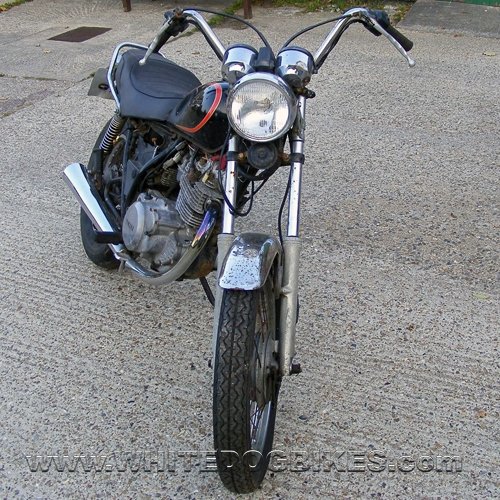 1981 Yamaha SR250 SE front view
Other stuff…
Although the SR250 SE was never going to set the motorcycle world alight and wasn't really all that much to look at, the bike proved very popular with commuters, people looking for their 'first big bike', younger riders, city couriers and people looking for a winter hack. Good Yamaha build quality and a fairly bulletproof engine means there are still a fair few around (meaning they are also cheap to pick up now, usually under £500 for a good, road ready example!)
Buying advice…..
As with all Yamaha's of this age, the electrics can be a bit corroded and problematic (especially in the rain!).
Also, the metal and chrome parts will have seen better days, a bit of rust around the tank, forks and chrome parts is common and nothing to worry about but watch out for bad rot, especially on the exhausts and forks as finding good and none bank account emptying exhausts and forks can be tricky!
Sources:
Bikez.com
Motorcycle Specs
Disclaimers:
The Yamaha SR250 SE specs and information on this page are correct to the best of our knowledge. But the info should NOT be taken as 100% accurate as we can, occasionally, make mistakes (despite rumors, we are only human!!)!
To keep this page as a free resource for people to use, there are affiliate links (mainly Amazon) throughout the article. These affiliate links help maintain the cost of running this blog (basically, if you visit Amazon through one of the links and buy something, we make a few pence!).
If you have any 1980 to 1985 Yam SR250 questions, please post them below 🙂