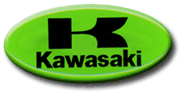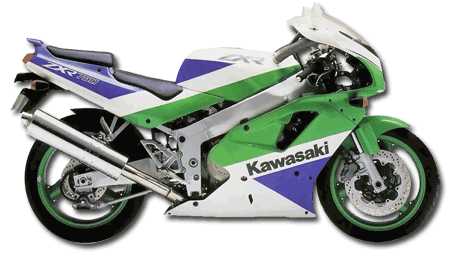 Kawasaki ZXR750 parts on Amazon….
The Kawasaki ZXR 750 J (J1 and J2 models) was a 749cc sports bike released in the UK between January 1991 and November 1992.
The ZXR750 J was an updated version of the Kawasaki ZXR750 H1 and H2 models and featured 43mm upside down (USD) forks, lighter, diamond section alloy chassis, new short stroke engine and 38mm CVKD carbs (aka constant velocity carb).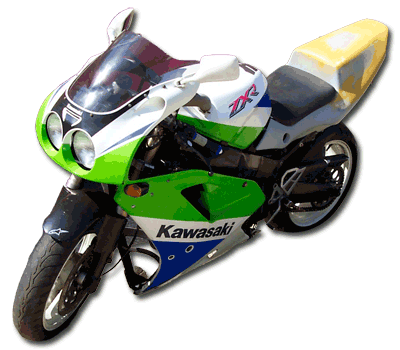 A little bit about the Kwak ZXR750 J specs………
Model information
Manufacturer:
Kawasaki
Model:
ZXR 750 J
Years in production:
1991 to 1992
CC:
749cc
Engine type:
Inline 4 cylinder (4 stroke)
Kawasaki model code:
ZX750J
Frame number:
Started – ZX750J—-
Insurance:
Group 14 (of 17) – Insurance likely to go up? Get a discount at Confused.com
Model and updates…..
ZXR750 J1 (ZX750J1): January 1991 to December 1991.
Frame number started:
ZX750J-000001-.
Description:
43mm Upside down forks, diamond section alloy chassis, short stroke engine with 38mm CVKD carbs, small aerofoil style rear grab rail and 'Works' ZXR-7 fairings.
Available colours:
Green/blue/white or blue gitane.
Cost new (in the UK):
£6379
ZXR750 J2 (ZX750J2): January 1992 to November 1992.
Frame number started:
ZX750J-013901-.
Description:
Same as the ZXR750 J1 model but with minor suspension modifications and a softer rear shock.
Available colours:
Green/blue/white or wine red
Cost new (in the UK):
£6379 (price was reduced to £6249 for a new 'K' reg bike)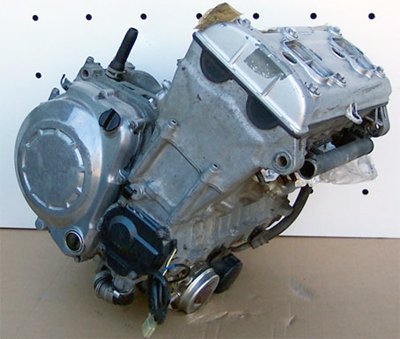 Engine and gearbox specs…
Displacement:
749cc (71 x 47.3mm)
Engine type:
In-line four cylinder
Compression:
10.8:1
Power:
100 BHP
Top speed:
143.5 mph
Stroke:
4 Stroke
Oil type:
10w40 Semi synthetic
Oil filter:
Filtrex OIF006 / Hiflo HF303 / Champion F301
Engine oil capacity:
3.2 litres
Valves per cylinder:
4 (16 valves in total)
Cam shafts:
Double overhead cams (DOHC)
Cooling system:
Water cooled
Cooling system capacity:
2 litres
Clutch:
Multi plate wet (oil submerged) hydraulic 'slipper' clutch
Gearbox:
6 speed – 1st gear down, 2 to 6 up. Neutral between 1st and 2nd gears
Gearbox lubrication:
From engine (no separate gearbox oil)
Carburetors:
38mm CVKD Carbs
Air filter:
Kawasaki part no: 11013-1210
Chain n' Sprockets
Final drive:
Chain (530 pitch chain with 110 links) – Available as a kit
Front sprocket teeth:
14
Rear sprocket teeth:
46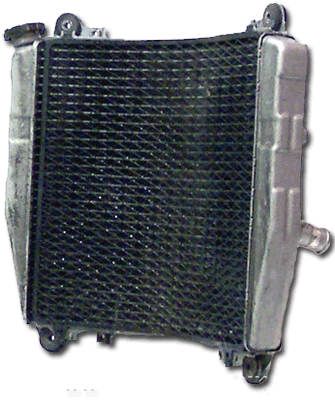 Servicing intervals
Oil change:
10,000km (approx 6200 miles) or every 12 months
Cooling system change:
Every 24 months (2 years)
Hydraulic brake fluid change:
20,000km (approx 12,400 miles) or every 24 months (2 years)
Fork oil change:
30,000km (approx 18,600 miles) or every 36 months (3 years)
Swing arm pivot and uni-track grease points:
Grease every 10,000km (approx 6200 miles) or every 12 months
Other grease points:
Grease every 20,000km (approx 12,400 miles) or every 24 months (2 years)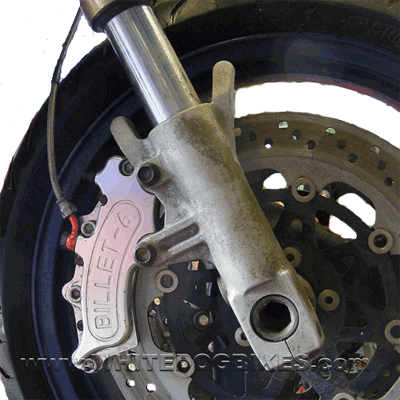 Brakes 'n wheels
Front brakes:
Twin (dual) discs with 4 pot calipers (4 pistons per caliper)
Front disc part numbers:
EBC MD4022LS and MD4022RS
Front brake pad part numbers:
EBC FA158
Rear brake:
Single disc with 2 pot caliper (2 pistons)
Rear disc part number:
MD4013
Rear brake pads part number:
EBC FA161
Brake systems:
Front and rear hydraulic brakes
Front tyre size:
120/70-17 (3 spoke wheel)
Rear tyre size:
180/55-17 (3 spoke wheel)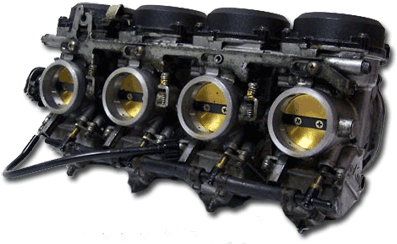 Suspension stuff….
Front suspension:
43mm USD (upside down) Telescopic Forks
Front fork oil:
445ml of 5w (light weight) fork oil per fork
Rear suspension:
Unitrack Monoshock
Weights 'n measures
Dry weight:
195kg (dry weight)
Wheelbase:
1420mm
Fuel tank capacity:
18 litres
Fuel type:
Unleaded petrol
Electrics 'n stuff
Ignition system:
Electronic CDI
Electrical system:
12 volts
Battery:
YTX12-BS / CTX12-BS
Spark plugs:
NGK CR9E
Other stuff…….
Starter:
Electric starter motor
Clutch:
Hydraulic operated clutch (no cable)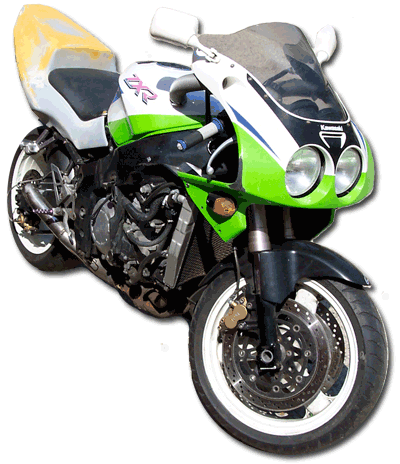 Useless stuff…….
Launched in 1991 the Kawasaki ZXR750 J was based on the 1989 to 1990 ZXR 750 H1 and H2 race replica supersports bikes and there are still plenty of these beasties around today.
The ZXR750 was a good bike in it's day and was used for some racing series and although the ZXR out handled rivals like the GSXR750 and 1100 it was blown away a few years later (along with the FZR's and GSXR's) by the Honda Fireblade.
The ZXR750 J was restricted to 100bhp due to an upcoming European 100bhp ban supposedly coming to Europe around the time the J model was launched, but, as with most European laws the BHP ban was scrapped and never came into force.
Although the J model had less BHP then the earlier H models (107bhp) and the later K models (121bhp), the J model had good mid range power due to the lower brake horse power!
Although the ZXR750 J model was based on the earlier H1 and H2 models, unfortunately there aren't many parts that are interchangeable between the 2 bikes as there were numerous changes between the H and J models (including different forks, engine and bodywork).
Buying advice…….
There are a fair few of these bikes around and you can pick up a good example with MOT for under £1000 privately.
Because of the racing history behind these bikes there are LOADS of ex-racers around (and racing mods like Harrison Billet 6 race calipers can be picked up for these bikes as well!).
These bikes were built to take a knock on the track (with beefed up yokes and spindles etc) so lightly crashed bikes can often easily be repaired.
Obviously, the youngest of these beasts will be around 20 years old now so the bikes do look a bit 'long in the tooth' and will have a few age related gremlins and they DON'T handle like more modern counterparts…….
Parts to watch out for when buying…..
Only parts to really check on the ZXR750 is the electrics (alternator, CDI etc) as these can be difficult to source.
The radiators, which due to the racing design of the rad (curved) alot of the ZXR750 radiators were used on other racing bikes and good examples are difficult to get hold of now!
And the upside down forks….
Unfortunately, upside down forks don't fair well in the UK weather and, unless they've been rebuilt and the stanchions replaced they are likely to need work and parts.
Performance mods…….
Apart from the usual Dynojet and K and N filter type stuff there is a relatively simple engine mod if you want a bit more from your ZXR750.
If you put ZX7 pistons in a ZXR750 (it will need a rebore though as of ZX7's are a couple of mm's bigger bore) will increase the CC to around 790cc.
Sources:
WhiteDogBikes
Bikez ZXR750 J Page
Silkolene.co.uk
Disclaimer: The Kawasaki ZXR750 J specs and information on this page are correct to the best of our knowledge. But the info should NOT be taken as 100% accurate as we can, occasionally make mistakes!
If you think we've missed any important info out or have something to add, please feel free to leave a comment below 🙂 …