MERRY CHRISTMAS - FREE Delivery on ALL UK orders in December :)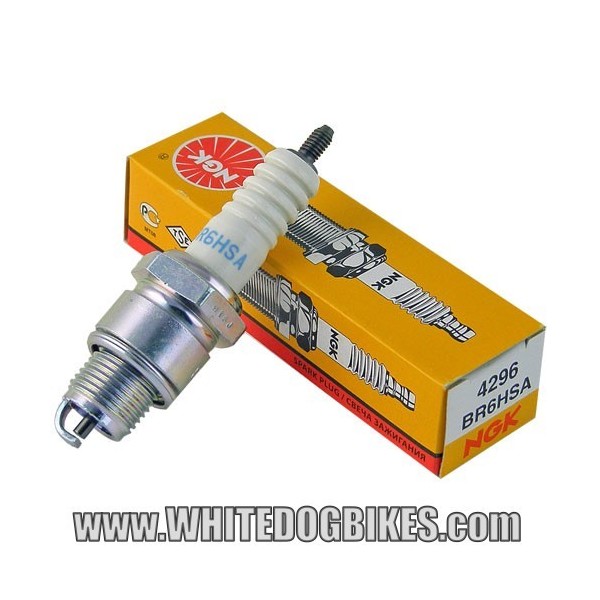  
97-03 Honda SGX50 Sky Spark Plug - 1 x NGK BR6HSA
Honda SGX 50 Sky spark plug (1997 to 2003 - All models)

Part number: NGK BR6HSA

Quantity: 1 x BR6HSA spark plug

Equivalent part numbers (guideline only!):
NGK: 4296
Honda: 98076-5672G, 98076-5671G

Spark plug dimensions:
Thread diameter: 14mm
Thread pitch: 1.25mm
Thread depth: 12.7mm
Spark plug length (total): 74mm
Hex bolt diameter: 20.6mm
Plug gap: 0.7mm

Top quality NGK standard motorcycle spark plug with a copper core center electrode for a wide heat range.
The copper cores gives superior heat conductivity which dissipates the heat of the engine away from the firing end, which helps to prevent hot spots and pre-ignition in the engine.

NGK Spark Plugs are designed using the latest technology to give optimum performance over the engines entire rev range.

NGK BR6HSA spark plug benefits:
Developed using the latest technology to give optimum performance
Designed to work over the entire rev range
Copper cored which gives better heat conductivity
Designed to help prevent hot spots and pre ignition
Effectively dissipates heat
Buying and returns info...
Can you return this item for an exchange or refund?
Yes, you can return this item up to 60 days after it has been delivered for a refund or exchange.
More info...
How can you pay for this item?
You can pay by Paypal either using your credit/debit card or your Paypal account.
Just either use the Paypal link above to buy the item or hit the Add to Basket button above, then hit the Checkout button in the top menu.

Is this website safe to make payments through?
Yes, we use
Paypal
to safely and securely process card payments.
Our website and checkout are secured and encrypted by a company called
Lets Encrypt
to make sure your details are submitted safely and securely.
More info...
Who are Whitedogbikes?
White Dog Motorcycle Accessories are a small mail order motorcycle parts business based in Halesworth, Suffolk (on the east coast of the UK).
We have been selling motorbike and scooter parts and accessories since 2003.
More info...
Where are you based?
Our address is:
White Dog Motorcycle Accessories
Unit 2,
Primes Lane Units,
Primes Lane,
Upper Holton,
Halesworth,
Suffolk.
IP19 8NZ.
You can also find our address and a map on our
Location Page
How can you contact us if you have a question?
You can contact us using the email address below:
Email: enquiries@whitedogbikes.com
You can also email us on our
contact us page
Product questions and answers...
No questions have been asked yet Ask a question about this part
here
Other products in the same category: