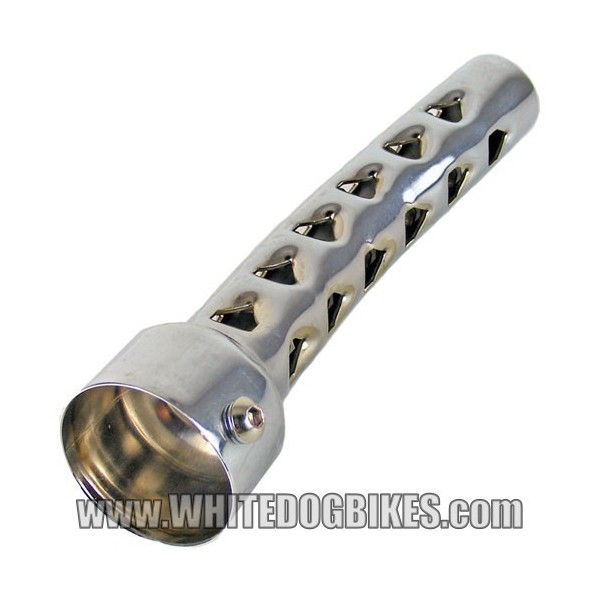  
47mm Angled Motorbike Exhaust Baffle
Easy to fit 47mm angled motorbike exhaust baffle designed to fit into the spout and barrel of conventional shaped race or aftermarket exhaust cans.

This motorcycle baffle greatly reduces the noise levels from motorbike exhausts, race cans or end cans if you have lost the baffle (or if the exhaust did not come with a baffle)!

The baffle simply bolts into the end of the exhaust end can to reduce the noise levels.

This baffle is ideally suited to inline 4 cylinder engine, conventional exhaust cans with an internal diameter of 47mm in the outlet spout (CBR, GSXR, Fireblade, Bandit, R1, R6, Fazer etc) but can be adapted to fit a wide range and style of exhausts.

47mm Angled motorbike exhaust baffle features:


Simple and easy to fit
Held in by a bolt so the baffle is easy to remove or install again (handy if your somewhere that does not have noise restrictions!)
Can help get an un baffled motorbike exhaust through an MOT or quieten an exhaust down for a track day
Can be used in round or oval bodied exhaust cans

The pictures below give an idea of the baffle dimensions:
(please note - the measurements below are approx)





Fitting requires a small hole to be drilled in the exhaust can spout.

Although these baffles will fit many motorbike exhaust end cans, they are not suitable for some high level systems where the end spout is at a steep angle to the can body (e.g. the Honda VTR1000 SP1 and SP2, see image on the left below). They are more suited to straighter end cans (see image on the right below):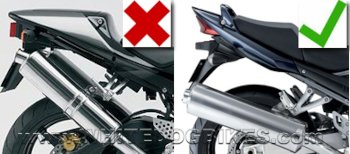 Buying and returns info...
Can you return this item for an exchange or refund?
Yes, you can return this item up to 60 days after it has been delivered for a refund or exchange.
More info...
How can you pay for this item?
You can pay by Paypal either using your credit/debit card or your Paypal account.
Just either use the Paypal link above to buy the item or hit the Add to Basket button above, then hit the Checkout button in the top menu.

Is this website safe to make payments through?
Yes, we use
Paypal
to safely and securely process card payments.
Our website and checkout are secured and encrypted by a company called
Lets Encrypt
to make sure your details are submitted safely and securely.
More info...
Who are Whitedogbikes?
White Dog Motorcycle Accessories are a small mail order motorcycle parts business based in Halesworth, Suffolk (on the east coast of the UK).
We have been selling motorbike and scooter parts and accessories since 2003.
More info...
Where are you based?
Our address is:
White Dog Motorcycle Accessories
Unit 2,
Primes Lane Units,
Primes Lane,
Upper Holton,
Halesworth,
Suffolk.
IP19 8NZ.
You can also find our address and a map on our
Location Page
How can you contact us if you have a question?
You can contact us using the email address below:
Email: enquiries@whitedogbikes.com
You can also email us on our
contact us page
Product questions and answers...
No questions have been asked yet Ask a question about this part
here
Other products in the same category: