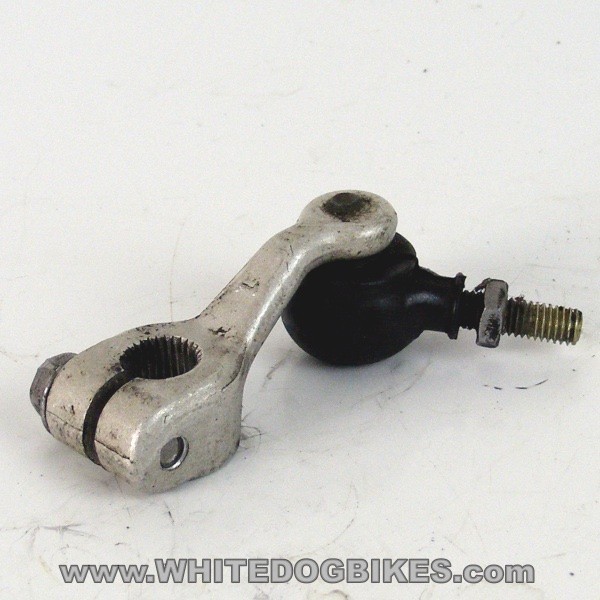 View larger
Universal Removable Motorcycle Exhaust Baffle
559958
New
8 inches (20.3cm) long motorbike exhaust baffle. Available with a 35mm, 41mm or 47mm diameter end
Sorry, this product is out of stock :-(
Availability date:
Buy this item in 3 clicks with Paypal
Item info...
Simple to fit universal removable motorcycle exhaust baffle insert.
This DB Killer greatly reduces the noise levels from noisy motorbike exhausts, race cans or end cans if you have lost the baffle!

8 inches long (easily cut with a hacksaw if a shorter length is required).

Available with a 35mm, 41mm or 47mm external diameter end.

These baffles are ideally suited to inline 4 cylinder engine, conventional exhaust cans (CBR, GSXR, Fireblade, Bandit, R1, R6, Fazer etc) but can be adapted (and have been by many of our customers!) to fit a wide range and style of exhausts.

Universal motorcycle exhaust baffle benefits:


Simple and easy to fit
Available to fit 35mm, 41mm and 47mm diameter end cans
Held in by a bolt so the baffle is easy to remove or install again (handy if your somewhere that does not have noise restrictions!)
Can help get an un baffled motorbike exhaust through an MOT or quieten an exhaust down for a track day
Easily shortened if a shorter length baffle is required (can be shortened with a hacksaw so no complicated or expensive machinery needed!)

The pictures below give an idea of the dimensions:
(please note - the measurements below are approx)



---



Fitting requires a small hole to be drilled in the exhaust can spout.

Although these universal baffles will fit many motorbike exhaust end cans, they are not suitable for some high level systems where the end spout is at a steep angle to the can body (e.g. the Honda VTR1000 SP1 and SP2, see image on the left below). They are more suited to straighter end cans (see image on the right below):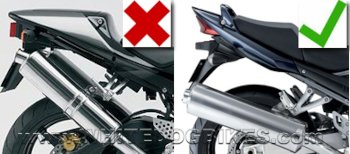 Postage information...
We can also deliver some parts to Europe and other countries Ask Us Here!
Please note: This item weighs (approx) 0.33kg.
For oils, coolants and similar products the above weight is per litre.
Items over 1kg and goods classed as hazardous (oils, aerosols etc) cannot be sent to some UK outer areas including Northern Ireland, UK Isles ( Wight, Man, Channel etc) and Scottish outer areas (postcodes starting AB, FK, IV, KA, KW, PA and PH). More info...
Questions and answers...
---
Question: What is the size of the mounting hole at the end of the baffle?

Answer: On the 41mm and 47mm baffle the hole is elongated (11mm x 7mm).
On the 35mm baffle the hole is a circle with a 7mm diameter.


---
Question: How thick is the metal used on the baffle?

Answer: The metal is fractionally over 1mm thick.


---
Question: Could you tell me the diameter of the smaller part of the tube on the baffle please?

Answer: The smaller tubing bit that comes out of the back of the baffle is approx 32mm in diameter (external diameter).


---
Question: I ride a Suzuki GSF650 Bandit with a Remus Powercone exhaust which is far louder than any other exhaust I have heard (baffle fitted). Would your baffle help me with my problem?

Answer: It may reduce the noise from your exhaust (bit vague, I know but we have never fitted one to a Remus Powercone exhaust!).
The problem you may have is actually mounting the baffle in the exhaust. The baffles we sell are designed for more conventional exhausts (with a spout on the end) so I am not sure if you could get the mounting screw that goes through the can spout and the baffle to mount to a Powercone exhaust securely?


---
Question: Can the baffle be shortened to get it to fit?

Answer: Yes, the baffle can be shortened by cutting off part of the longer, tube part with a hacksaw or similar.
But, we do not recommend shortening the baffle by more than half way (not more than 3 of the triangular baffle holes length) as this will greatly reduce the baffles ability to reduce the sound.


---
Question: How much will this baffle reduce the exhaust noise by?

Answer: Difficult to answer this question as it will vary from bike to bike and between exhaust makes. All we can say is we have used these baffles ourselves on inline 4 cylinder engine bikes with race cans and the baffle has quietened the exhaust down enough to get it through an MOT.


---
Question: How thick is the metal used in the baffle?

Answer: The metal is fractionally over 1mm thick.


---
Question: I have these baffles and installed them in a pair of fish tail tail pipes I ended up mounting them about 30cm in from the end of the pipes. They did not quiet down the exhaust at all?

Answer: The baffles can help quieten down some exhaust systems, but they are more suited to inline 4 cylinder, conventional style (i.e. side mounted) exhausts.
If your exhaust is a straight through system with little to no exhaust wadding or restrictions, the baffle is unlikely to do much to quieten the exhaust (especially if the system is a very loud custom system).
Your only option may be to get a baffle specifically made for your exhaust system.


---
Buying and returns info...
Can you return this item for an exchange or refund?
Yes, you can return this item up to 60 days after it has been delivered for a refund or exchange.
More info...
How can you pay for this item?
You can pay by Paypal either using your credit/debit card or your Paypal balance.
Just use the Paypal link above to buy the item or hit the Add to Basket button above, then hit the Checkout button at the top/right of this page.

Is this website safe to make payments through?
Yes, we use
Paypal
to safely and securely process card payments.
Our checkout is secured and encrypted by a company called
Geotrust
to make sure your details are submitted safely and securely.
More info...
Who are Whitedogbikes?
White Dog Motorcycle Accessories are a small mail order motorcycle parts business based in Halesworth, Suffolk (on the east coast of the UK).
We have been selling motorbike and scooter parts and accessories since 2003.
More info...
Where are you based?
Our address is:
White Dog Motorcycle Accessories
Unit 2,
Primes Lane Units,
Primes Lane,
Upper Holton,
Halesworth,
Suffolk.
IP19 8NZ.
You can also find our address and a map on our
Location Page
How can you contact us if you have a question?
You can contact us using the email address below:
Email: enquiries@whitedogbikes.com
You can also email us on our
contact us page