Motorcycle Battery Brands and Warranty Information
Quick links: Motorcycle battery warranties | Motorbike battery brands

Other battery info pages: Motorcycle battery charging | Motorbike battery FAQ's
Information about different motorcycle battery brands stocked at White Dog Motorcycle Accessories as well as info about motorbike battery warranties.
Motorcycle Battery Warranties and Guarantees....
All the motorcycle batteries we sell at White Dog are guaranteed for 12 months from date of purchase against manufacturing defects when used in normal motorcycle starting and use.
Points to remember regarding motorbike battery warranties:
The battery must be maintained during storage and use &, if applicable, the electrolyte (battery acid) must be kept at the appropriate strength and level
The battery must be kept at a constant charge of not less than 80% of the batteries full charge capacity (generally above 12.5 volts for 12 volt batteries and above 6.3 volts for 6 volt batteries)
The battery must not be overcharged or allowed to sulphate or deep discharge
Motorcycle batteries are designed for use on road going motorcycles, they are not designed for race use (e.g. total loss charging systems) or for use in items like torches, electric bikes and Chinese bikes with cr*p charging systems!
Use a properly designed Motorcycle Battery Charger for the initial top up charge and for maintaining the battery.
Using a car or general automotive chargers WILL invalidate your warranty.
If you have any questions about a motorcycle battery purchased from us, please Contact Us....
Motorcycle Battery Brands we Supply....
Unibat Motorcycle Batteries
Samauto s.r.l. (Unibat batteries) were established in 1984 and are an Italian designer and manufacturer of motorcycle and scooter batteries.

In 2005, Unibat batteries became the OEM battery manufacturer (original equipment manufacturer) for Ducati motorcycles as well as Benelli, Beta, Moto Morini, HM Bikes and Malaguti.
Unibat also design new and upgraded batteries and have recently developed a maintenance free upgrade for the BMW ES18-12v battery as well as sealed upgrade batteries for the older style YB14L-a2 and YB9-B lead acid batteries.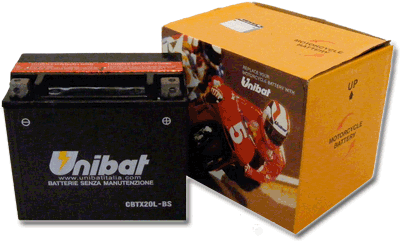 Dynavolt Motorcycle Batteries
Dynavolt are an OEM battery manufacturing company who were established in 1986.
The Dynavolt corporation employs over 600 staff in their 28,000 square meter battery design and manufacturing facility.
Dynavolt currently design and make a wide range range of batteries for use in motorcycles, scooters, cars, vehicles and for use in industrial applications.
Dynavolt are also an accredited OEM (original equipment manufacturer) battery manufacturer for various popular makes and model of motorcycles.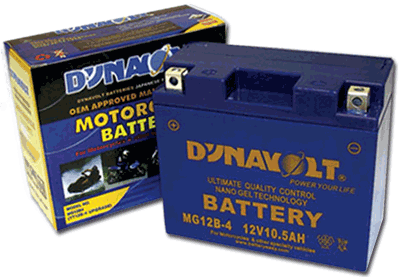 Other motorcycle battery makes....
We do also have a few obscure batteries in other brands including Sprint, JMT and MF Batteries.