Motorbike Helmet and Clothing Size and Fitment Guides
The charts below give a guide to motorcycle clothing and helmet sizes.

Please note - All measurements are provided in centimeters (unless otherwise stated).
We do allow for 1 free exchange on clothing, helmets and boots per order.
Multiple items are accepted for a free exchange as long as all items for exchange are returned together.
View our returns guidelines.....
Please remember - this is only a size
GUIDE!
Because people come in all different shapes and sizes, it is difficult to say exactly which helmet, boots or jacket will fit. The sizing information on this page gives general sizing information to help you choose the correct size.
Use the links below to go straight to a section:

Helmet sizes

ECE22.05 and ACU Gold info

Boot and shoe sizes

Glove sizes

Men's and universal jacket sizes

Men's and universal trouser sizes

Ladies jacket sizes

Ladies trouser sizes

Helmet fitment advice

Boot fitment advice

Glove fitment advice

Jacket and trouser fitment advice

Disclaimer
Helmet Sizes
How to measure your head:
Measure round the circumference of the head, just above the eyebrows and tops of the ears.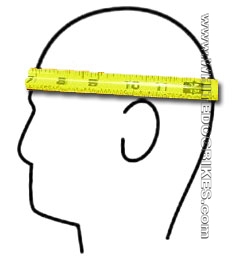 | Size | Size in cm |
| --- | --- |
| Extra Small (XS) | 52-54cm |
| Small (S) | 55-56cm |
| Medium (M) | 57-58cm |
| Large (L) | 59-60cm |
| Extra Large (XL) | 61-62cm |
| Double Extra Large (XXL) | 63-64cm |
When you try the helmet on, it should feel very 'snug' on your head, but not overly uncomfortable and it shouldn't 'pinch' or feel painful across the top of your head (this is a sign that the helmet is too small or the wrong shape for your head).
It's not uncommon for new helmets to feel a little uncomfortable around the ears, this part of the helmet will 'bed in' after a short period of use.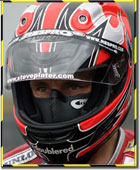 If you put the helmet on, look in a mirror to see how it fits. If you look at the image above, the riders face has a slightly 'squashed' look and this is how a correctly fitting helmet should look when you put it on. It shouldn't feel so tight that it is overly uncomfortable or painful to wear, but, it should feel very snug and close around your head and not loose.
A good way to test the fitment is to get a friend to firmly hold the front part of the helmet (where your chin is) and try to move your head left and right and up and down. If you can easily turn your head or move it up and down in the helmet, then it may be too big (and in the event of a crash, the helmet could spin around on your head!). If, as you try to move your head up and down and from side to side, your head doesn't move much and/or the skin around your eyes and forehead doesn't move or squashes up as you move your head, this is a good indication the helmet is a good fit.
The single most important factor when getting a new helmet is that it fit's you correctly (NOT price or the make of the helmet as many people seem to think)!!

At the end of the day, a £50 Nitro lid that fit's you correctly will do a better job in the event of a crash than a poorly fitting, £700 high end branded helmet (and vice versa)!!

Please remember-The shape of your head is as important to the correct fitment of a Motorcycle Helmet as the measurement. Just because your head is the correct measurement for the size of helmet, doesn't necessarily guarantee it will fit!
ECE 22.05, ACU Gold and SHARP Crash Helmet Standard Information
ECE22.05 (sometimes called ECER 22.05): This is the basic, entry level testing required for any helmet to be road legal in the UK (and Europe) and the ECE 22.05 testing is the equivalent of the DOT helmet testing in the USA. This approval covers both the helmet and the visor.
ECE22.05 approved helmets normally have a sticker stating that they are approved to this standard at the bottom on the back (normally next to the size sticker). If a helmet doesn't have this sticker on or hasn't been submitted for this test, then it isn't legal for use on the road in the UK.
Boring info: ECE stands for 'Economic Community of Europe', '22' stands for the number of the regulation for testing and '05' stands for the '05' series of amendments to regulation 22 (the '.' doesn't stand for anything, it's just there to split the numbers up!).
ACU Gold approval: The Autocycle Union GB (ACU for short) is the body responsible for the governing of motorcycle racing in the UK (the UK equivalent of the AMA, American Motorcyclist Association, in the USA).
Originally, there were 2 standards for ACU approved helmets, silver and gold (ACU Gold being the higher standard). The ACU Silver approval has since been discontinued.
The ACU Gold sticker has been recognized by many worldwide motorcycle racing bodies as a high-level helmet safety standard for motorcycle racing and many of those organizations will only allow motorcycle racers to use helmets with the ACU Gold sticker.
SHARP testing: Launched in Spring 2008, SHARP (Safety Helmet Assessment and Rating Program) is a government backed, independent safety rating for motorcycle and scooter helmets.
The SHARP helmet testing program enables riders to more easily select a helmet which matches their needs. It provides consumers with an independent assessment of the safety performance of helmets sold in the UK.
More information about SHARP testing can be found here.
| UK | Europe | USA |
| --- | --- | --- |
| 4 | 38 | 5 |
| 5 | 39 | 6 |
| 6 | 40 | 7 |
| 7 | 41 | 8 |
| 8 | 42 | 9 |
| 9 | 43 | 10 |
| 10 | 44 | 11 |
| 11 | 45 | 12 |
| 12 | 46 | 13 |
| 13 | 47 | 14 |
| 14 | 48 | 15 |
Don't forget to try your new
boots
on your motorcycle and scooter (simply putting them on and walking round your front room isn't a good test!). Motorcycle and scooter boots are designed to be ridden in and many '
sports style
' boots will feel uncomfortable to walk around in when your off the bike.
Check the boots are not too 'awkward' on the foot pegs (so your feet don't keep coming off the pegs etc) and check that you can operate the rear brake pedal and gear change lever easily and safely.
It is not uncommon for motorbike and scooter boots to feel a little 'restrictive'. This is mainly due to the added armour and protection in them (unlike normal shoes or trainers). The boots should feel snug, but not too uncomfortable or painful (if there too uncomfortable, they could distract you when riding).
Please remember-New motorcycle boots may feel a little uncomfortable at first as, like most new shoes or boots, they will need 'breaking in'.
Glove Sizes
How to measure your hand:
Measure across your hand at the thickest or fullest part (roughly across your hands lifeline).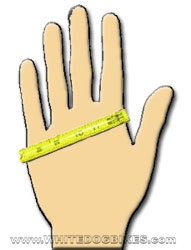 | Size | Size in CM |
| --- | --- |
| Extra Small (XS) | 6 to 6.5cm |
| Small (S) | 7 to 7.5cm |
| Medium (M) | 8 to 8.5cm |
| Large (L) | 9 to 9.5cm |
| Extra Large (XL) | 10 to 10.5cm |
| Double Extra Large (XXL) | 11 to 11.5cm |
When you get your new gloves, put them on to check the size and try them out on your motorcycle or scooter. Check that you can use all the throttle, controls and switches easily.
Please remember-winter style gloves are thicker than summer gloves and are often 'clumsier' on the switchgear controls.
Men's and Universal Jacket Sizes
| Size | Chest size in inches |
| --- | --- |
| Extra Small (XS) | 38 to 39 inches |
| Small (S) | 40-41 inches |
| Medium (M) | 42-43 inches |
| Large (L) | 44-45 inches |
| Extra Large (XL) | 46-47 inches |
| Double Extra Large (XXL) | 48-49 inches |
| Triple Extra Large (XXXL) | 50-51 inches |
Men's and Universal Trouser Sizes
| Size | Waist size in inches |
| --- | --- |
| Extra Small (XS) | 28 to 29 inches |
| Small (S) | 30 to 31 inches |
| Medium (M) | 32 to 33 inches |
| Large (L) | 34 to 35 inches |
| Extra Large (XL) | 36 to 37 inches |
| Double Extra Large (XXL) | 38 to 39 inches |
| Triple Extra Large (XXXL) | 40 to 41 inches |
Ladies Jacket Sizes
| Size | UK Size |
| --- | --- |
| Small (S) | 10 |
| Medium (M) | 12 |
| Large (L) | 14 |
| Extra Large (XL) | 16 |
Ladies Trouser Sizes
| Size | UK Size |
| --- | --- |
| Small (S) | 10 |
| Medium (M) | 12 |
| Large (L) | 14 |
| Extra Large (XL) | 16 |
When you try your jacket and/or trousers on, they should fit reasonable closely to your body. Because of the thickness of the fabrics and/or leather used, they may feel a little restrictive, especially around the armour areas.
motorcycle clothing isn't designed for walking around in, it's designed for bike riding, so if your trying on the clothing and standing up, the arms and legs may be a bit long and the armour may not sit in the right place. The best way to check the fitment is to sit on your motorcycle or scooter in the position you would normally ride in. Very often, motorcycle clothing is long in the legs and arms as when your on the bike (with you elbows and knees bent), the slack in the arms and legs will be taken up and the armour should stay in the correct position once your on the bike.
Check that you can operate all the controls easily and safely on the bike and that you can still do your 'lifesaver' check when wearing the clothing on the bike.
2 Points to consider when buying motorcycle clothing:
1) If your buying motorcycle clothing to wear in the winter and/or your planning on commuting to work, you may need to get a size over your normal size if your going to be wearing your work clothing or extra winter layers underneath (e.g. If your wearing your work clothes under your motorcycle gear and are normally a size medium, you may need to buy a size large to allow for the extra clothing underneath)

2) As any experienced biker will tell you, despite what modern motorbike garments say on the labels, if it's cold and wet outside and you've got a long way to ride, you will probably, unfortunately, get cold and wet!!!!!
Please remember-this is only a size
GUIDE