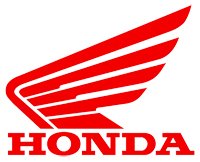 SGX50 Sky with chrome plating on the exhaust cover
Honda SGX50 Sky Specs…..
The Honda SGX 50 Sky was a budget, step through, 2 stroke, 49cc scooter/moped hybrid with 16 inch wheels sold in the UK March 1997 and May 2003.
The SGX50 Sky was available in 3 different styles, a basic model, a 'Deluxe' model with chrome plating on the headlight, tail light, indicators and rear carrier rack and a 'Fun' model with semi transparent bodywork.
Although the SGX50 Sky was popular for a short while in the UK, it proved very popular in Southern Europe because of it's simple styling and 'easy to use' features.
The SGX 50 was, at one point, considered as a likely replacement for the Honda C90 Cub.
Continue reading →