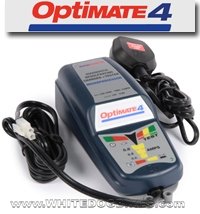 Time to dispel a motorcycle urban myth……………………
This blog is about charging your motorcycle battery by starting your bike and letting it tick over for 10 to 20 mins once or twice a month.
BUY A MOTORCYCLE BATTERY CHARGER, STARTING THE BIKE DOESN'T WORK, YOU WILL END UP RUINING THE BATTERY!
Motorbikes are meant to be used (not sat in a shed for months on end!). The best way to maintain a healthy battery is to use the bike regularly.
The 2nd best way to maintain the battery is to charge the battery up once or twice a month with a properly designed Motorcycle Battery Charger.
It is NOT advisable to try & maintain your battery by starting the bike up once a month & letting it tick over for 5-10 mins.
This method of charging a motorcycle battery actually uses more power to start the bike than the charging system will put back in at tickover & will, over time, flatten the battery.
When a bike is ticking over, the charging system is normally only putting a low/minimum voltage level (around 12 to 12.5 volts) through the system. This isn't enough to charge a motorbike battery.
As the rev's increase (e.g. when the bike is being ridden), the voltage level being put back into the motorcycle battery increases to around 13.5 to 14.5 volts & it's the extra power being put, by the charging system, into the battery when the bike is being ridden that charges the battery.
A slightly discharged battery (over 12 volts) can sometimes be brought back to life by taking the bike out for a long run & really using the gears & the rev range.
Source: Motorcycle battery FAQ's